Push Molds Order List
Quickly create your own clay figure using Maureen Carlson's push molds to get started.
More info and examples.
/
Customer Feedback
/
Free Making Doll Bodies Tutorial PDF, using our push molds.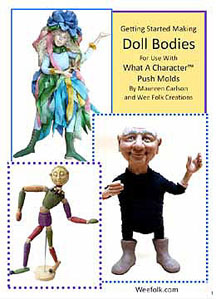 MN: call or text- 952-447-3828,

weefolk@weefolk.com

Caution:

Our silicone rubber is not FDA approved for use with food products. So we recommend using our molds for craft and art projects only.

Note:

You may insert the quantities of all items that you want and add them to your cart all together.


Click the yellow arrow at right of item# to return here.

Below are thumbnails for fast links..