Nellie Michelle
(p113-limited quantity) $18.00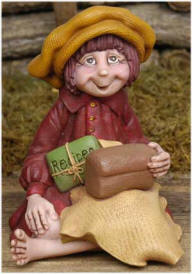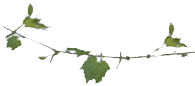 As told by Maureen
Even if you didn't know that a Pippsywoggin lived in the pile of rocks at the edge of Minnreg field, you'd be drawn to the spot by the faint smell of yeast and honey and browned butter. We first found out about Nellie Michelle's home quite by accident. Dan was out looking for large rocks with which to surround our goldfish pond, and found some in that field. As I was helping him unload the van, I noticed what looked like a miniature loaf of bread stuck in the crevice of one rock. It was only about the size of a grape, yet was browned on the top, soft on the sides, and definitely smelled like bread.
Suspecting that we had inadvertently taken someone's supper, we returned to the spot with some of Dan's own recently baked bread, some fresh raspberry jam, and a little jug of milk.
These we left on top of a flat rack, accompanied by a note explaining who we were, how we knew about the existence of Pippsywoggins, and the name of a few of our Pip friends as references.
The next morning, as I was sleepily brewing my morning coffee, I noticed on the outside window sill a little bundle wrapped in a checked cloth and tied with red ribbon. Smiling expectantly, I retrieved it. Inside were a dozen muffins, each about the size of a miniature marshmallow, and a little mcard on which was printed the recipe.
A few days later we left on the rock a plate of baklava, complete with recipe. Later that week we found shortcake biscuits sitting at the edge of the strawberry patch, this time with a note signed Nellie Michele. The sharing continues to this day. We have still never seen Nellie Michele, though we have gotten to know more about her, as sometimes the food is accompanied by newsy little letters full of her baking tips. This sculpture of her is how I imagine her to be. It may not be totally accurate, but I know that it captures the generosity of her soul.

© 1995, 2006 by Maureen Carlson
All designs and stories by Maureen may not be reproduced in any way without expressed written permission.