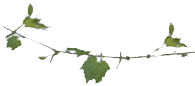 As told by Maureen
Being generous is a good thing, but true friendships are usually built around give and take. Someone who only gives can keep friends away. That's what almost happened with Lilah Pearl. I first became aware of her existence one day when I was absent mindedly looking out my window. There I saw Jay Oatis Will disappearing into the tangle of old cedar limbs behind my studio.
I never know what mischief Jay Oatis might be up to, so I stayed at my window to watch. Nothing moved for about 10 minutes except for a couple of Chipping Sparrows searching for breakfast. Then up popped a fuzzy blue ball with a long tail attached, from under which peeped Jay Oatis's bright little eyes. The blue color of the hat looked faintly familiar, and as I stared at it I recognized the yarn trimmings that I had put in the garbage last week.
As I watched, Jay Oatis gleefully jumped from the top of the pile, the long tail of his new hat sailing out behind him, and skipped away. Since I know that Jay Oatis trades his collections for clothing, I immediately suspected that a Pippsywoggin lived in the brush pile. But, Pips always camouflage their homes, so I saw no evidence.
I'm always anxious to meet new Pips, so I wrote a little note introducing myself, and left it, along with some yarn scraps, out by the brush pile. I did this for several weeks. The yarn was always gone by morning, but I saw no other signs that a new Pip lived nearby. Then one day I decided to try a different tactic. I wrote a note saying, "Needed: Occasional small hats, scarves, and sweaters for dolls."
The next morning there was a small, fuzzy knit cap hanging from my doorknob with a note that said, "My name is Lilah Pearl. I've been enjoying your yarn. Do you like this hat?" I smiled and got out my pencil and paper to write a reply. And so began my friendship with Lilah Pearl.

© 1995, 2006 by Maureen Carlson
All designs and stories by Maureen may not be reproduced in any way without expressed written permission.