Class # bk102315

Medicine Dolls
with Barb Kobe
To Register:

or scroll to bottom of page ↓

Date:
Friday - Sunday,
October 23 - 25, 2015

Time:
9:30 - 4:30 each day with Friday and Saturday night studio time

Where:
Maureen Carlson's Center for Creative Arts
in Jordan, MN USA

Dorm: Info here and on registration form
Class Fee: $300.00

Experience Level: All levels
Format: 3-day class
Class Minimum: 4
Class Maximum: 8
Medicine Dolls
:
The Art of Healing Dolls

Instructor: Barb Kobe


Other Classes Taught by Barb Kobe
at Maureen's in 2015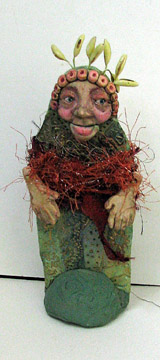 This is one of Barb Kobe's Game Pieces from one of her Creative Journey Games.
This is such a great class!
↓↓↓↓


Medicine Dolls: the Art of Healing Dolls

The act of making a doll can take you through a process of creative imagination, growth and healing.

Medicine Dolls focuses on the personal growth and healing aspects of doll-making. It is based on a book written by Barb Kobe, Healing Artist and Creativity Coach and Mentor,
The Transformative Art of Healing Dolls.

A process to deepen your connection to your body, mind and spirit using dollmaking and visual journaling

Participants will be invited and encouraged to explore their range of perceptions, emotions, and symptoms through the dolls they will create; and in doing so will reach a deeper understanding of themselves and their doll-making process. At the end of day three participants will experience a witnessing and blessing of the dolls ceremony. Participants will be expected to bring a journal and pictures of themselves, their mother, grandmother and any other important women in their lives. Participants will be invited to play with their doll(s) through drawing and writing.
I
n October, Barb will also be presenting the
Creative Journey Game,
an adventure in self discovery and creative problem solving.



More info here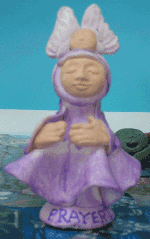 These dolls are an example of the types of dolls that you might make in this class, though each doll is unique. Your intentions, materials and story all part of the creative process.

Supplies needed for class:
Also bring: