Class # ct072415

Power Tools and Unconventional Uses of Polymer Clay

with Cynthia Tinapple
To Register:

or scroll to bottom of page ↓

Date:
Friday through Monday
July 24 - 27, 2015

Time:
9:30 - 4:30 each day with evening studio time

Where:
Maureen Carlson's Center for Creative Arts
in Jordan, MN USA

Dorm: Info here and on registration form
Class Fee: $400.00

Materials Fee: TBA

Experience Level: All levels
Format: 4-day class
Class Minimum: 6
Class Maximum: 8

Come to this class, listen and learn as Cynthia Tinapple tells you how she has incorporated polymer into sinks, floors, walls, outdoor decorations and more. She even patched the driveway with the most fetching repeating cane slices.

You'll learn how to get comfortable with a few easy shop tools that help with home improvements in polymer – a power drill, a heat gun, an infrared thermometer, extruders, Forstner bits and more.
Power Tools and Unconventional Uses of Polymer Clay

Instructor: Cynthia Tinapple

Yes, those are polymer clay pieces that decorate the bannister at Cynthia Tinapple's house!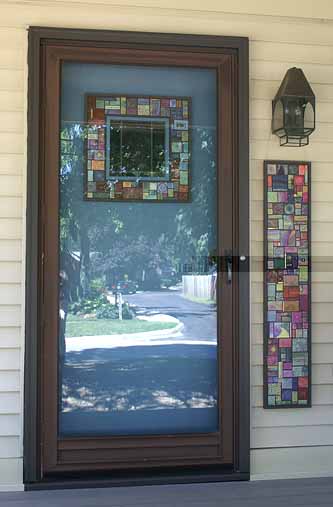 Cynthia collaborated with her husband, Blair, on this wood vase which is trimmed with polymer clay and transferred images.


See the center picture for see this window in it's setting.



In this class you will learn to patch and camouflage and upgrade in ways that will astonish and intrigue visitors and infuse your home with warmth and color.

Imagine:
A bouquet of patterned sticks

A switch plate with photo transfers

A wall of cane slices

A dash of design on a doorknob or embedded in the floor

Bold additions of your work throughout your home are easy to accomplish once you accept your decor as an extension of you.
You'll appreciate the wisdom of decorating tricks like:
The power of your collections

Repeat, repeat, repeat
Upcycling
Drill, baby, drill
Patching with polymer
Lampshades
Cynthia says, "I spent years as an interior decorator, then a graphic designer and creative manager so I was accustomed to integrating art all around me. My cabinetmaker husband helped me lose all fear of power tools. We tried and failed and tried again and you will benefit from our adventures in combining polymer with wood and other materials."

Come make friends with shop tools and discover in this weekend class how to give your place a makeover that will delight you.



Pictured above is one of Cynthia's polymer clay lampshades.
Expand your ideas
about how
polymer clay touches
can be added
to enhance the
personality
of your home.


Why limit yourself
to making jewelry
when you can
immerse your life
in color?
For the dorm:
If you are staying in the dorm, be sure and read the suggested list of what to bring, at the bottom of this page:
Dorm Info