Class # dk061015

Alice In Wonderland
A Ball-Jointed Doll
with Diane Keeler
To Register:

or scroll to bottom of page ↓

Date:
June 10 -13, 2015

Time:
9:30 - 4:30 each day with evening studio time

Where:
Maureen Carlson's Center for Creative Arts
in Jordan, MN USA

Dorm: Info here and on registration form
Class Fee: $400.00

Materials Fee: $25.00

Experience Level: intermediate to advanced
Format: 4-day class
Class Minimum: 4
Class Maximum: 8
Alice in Wonderland:
Making a Ball-Jointed Doll
Instructor: Diane Keeler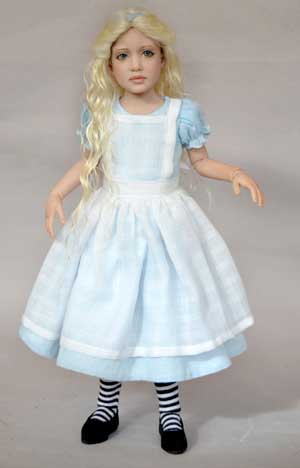 Description: In this class you'll create a ball-jointed Alice in Wonderland figure with a polymer clay body, fabric clothing and a mohair wig.

Students in previous Diane Keeler classes at Maureen's have created the Mad Hatter and Tweedle Dee and Tweedle Dumm, so Alice is needed to complete the trio.
Materials Fee of $25.00
There are quite a few steps in the process of creating Alice, so Diane is doing some preparation work to make this easier! She'll be making the balls for the ball joints, plus will be providing the mohair and a detailed pattern for the doll as well as for the clothing.

Diane will teach how to sculpt the parts but will also have molds available for you to use for the face.
Fully Poseable
Alice is fully jointed and so much fun to pose when she is done. If you have ever wanted to learn jointing this is a fun class to learn the process.