Class # lh080915

A Joy Garden
with Lindly Haunani

To Register:

or scroll to bottom of page ↓

Date:
August 9 - 14, 2015
Time:
4:00 pm Sunday - 4:00 pm Friday with evening studio time

Where:
Maureen Carlson's Center for Creative Arts in Jordan, MN USA
Dorm: Info here and on registration form

Class Fee: $550.00
Experience Level: All levels
Format: 5 1/2-day class
Class Minimum: 2
Class Maximum: 8
A Joy Garden:
Translucent Polymer Innovations

Instructor: Lindly Haunani


Have you been longing to return to the joy of childlike play, without self-consciousness and predetermined notions of skill and perfection?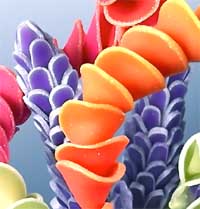 With Lindly's guidance (and samples) you will be encouraged to playfully experiment with edges, scale and shape shifting to create your own unique polymer garden elements.


The choice is yours whether to make a statement necklace, a diorama or a garden shrine box.


Come prepared to have fun, play, grow and learn new approaches to playing/working with polymer while nourishing your creative self. Leave with a completed joy garden to wear or display, along with several useful strategies designed to encourage more play in your home studio.


Further details to aid you in your decision will be included in your supply list.
In this class you will explore the art of designing and mixing a coordinated color palette using translucent polymer. Learn the parameters of proportion for tinting and strategies for increasing (and decreasing) the vibrancy of your colors.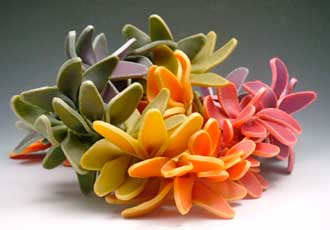 Discover how embracing intuition and intention will guide you to a deeper understanding of the expressive and transformational power of informed color choices in your work.

Lindly will guide you, step by step, as you make a set of five color-coordinated canes that will feature translucent clay blends, embossing powders and opaque accents. Then you will discover how a simple cane slice can be transformed by manipulating the edges, folding, stretching or texturing and then possibly combined with other shapes to create dynamic volume.
Flowers, leaves, vegetables, pods, stems or even purely fantastical garden elements are some of the possibilities to be explored.
About Lindly:



Lindly Haunani is best known for her sensitive use of color and gentle and empowering teaching style. She has over twenty-five years of experience as a polymer clay workshop leader and has taught hundreds of workshops ranging from three- hour seminars to weeklong residential intensives.

In addition to many private collections her work is part of the permanent collections of RAM, the Museum of Fine Arts, Boston, the Newark Museum of Art, the Philadelphia Museum of Art and the Meinge International Museum in San Diego. She has a BFA, in Printmaking from Carnegie Mellon University in Pittsburgh, PA.

She is one of the founding members of the National Polymer Clay Guild (now the International Polymer Clay Association), co-author of Artists at Work and Polymer Clay Color Inspirations: Techniques and Projects for Creating Successful Palettes. Her work has been featured in eighteen books.

Lindly lives in Maryland and often fantasizes about being a food stylist, a stand-up comic or a fabric designer as she works with polymer.

Each class session will begin with an optional guided meditation designed to tap into your inherent joyful wisdom.

Discover how embracing intuition and intention will guide you to a deeper understanding of the expressive and transformational power of informed design, form and color choices in your work.

Learn how to enhance the flow of your creative decision-making process.

Immerse yourself in the powerfully magical, healing and restorative atmosphere of Maureen Carlson's Center for Creative Arts during this weeklong workshop.  

Enjoy the on site garden and warm inviting studio space.

Experience the synergistic pleasure of being part of a gathering of artistic "gardeners" as a participant in group discussions designed to generate aesthetic and technical solutions.
TBA ...






















For the dorm: strong>
If you are staying in the dorm, be sure and read the suggested list of what to bring, at the bottom of this page:
Dorm Info&n