Class # mc080115

August Fantasy Week
with Maureen Carlson
To Register:

or scroll to bottom of page ↓

Date:
Saturday, August 1, 9:30 AM, through Thursday, August 6, 4:30 PM.

Time:
Begins at 9:30 AM on Saturday and continues for 6 days, with evening studio time. Ends at 4:30 PM on Thursday.

Where:
Maureen Carlson's Center for Creative Arts
in Jordan, MN USA

Dorm: Info here and on registration form
Class Fee: $540 plus supplies

Materials Fee: Varies depending on supplies used

Experience Level: All levels
Format: 6 -day class
Class Minimum: 2
Class Maximum: 8

August Fantasy Week

A Week of Polymer Clay Exploration and Discovery
Instructor: Maureen Carlson

Class Description: If you could create anything that you wanted to from polymer clay and mixed media supplies, what would you make? Would it be a character, a doll, a wall piece, decorative items, jewelry or yard art? Would it be made from polymer clay or fabric, Apoxie Sculpt or paper? Would it involve paint or ink or textures, items from nature or from the local antique stores?
While Maureen doesn't promise that ANYTHING and EVERYTHING is possible during Fantasy Week, she does promise that this will be a week for concentrating on your dreams and visions of artistic success.
Students will be encouraged to imagine, to plan, to learn, to play, to get in touch with that part which yearns to create. The focus will be on setting an atmosphere where wonderful things might happen, and usually do

Note: This class was also offered in April 2015 and will be offered in October 2015. The October class is full, but you can add your name to the waiting list.


Most anything that Maureen teaches in her polymer clay and mixed media repertoire of classses can be set as your intention for your Fantasy Week at Maureen's?

Toys

Dolls

Characters

Games

Books

Chess Set

Door Knobs

Sculptures

Beads


How it Works: On the opening day, each student will plan what he or she would like to accomplish during the week. From those plans, Maureen will then do group and individual lessons to help students accomplish their goals. There will be emphasis on face sculpting, shape-making and polymer clay techniques, as those are Maureen's focus as a teacher, but the studio holds a wide range of resources and inspiration, so expect to be surprised, and delighted!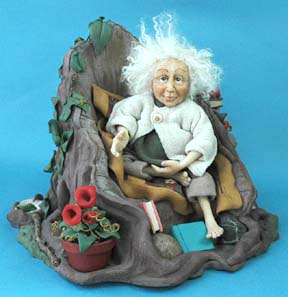 * Polymer clay, any brand except Sculpey III: a selection of your favorite colors, including clay for skin if you intend to make people. You will probably need enough clay to make 4 to 8 characters, animals or "beings". The exact amount of clay will depend on how detailed and how large of characters you wish to make. Each student will set his or her agenda for the week as to how many pieces to make. We also have clay at Maureen's which you can purchase.
Note: you may also choose to use Apoxie Sculpt or air-drying clay for your projects.
* Plastic bags for leftover clay
* Paring knife or utility knife
* Knitting needles in a variety of sizes, including one that is a size 6, 7 or 8
* Small brushes, including a liner (size 0 or 1), a flat or filbert (sizes 2 and 4)
*Sharp needle tool
* Favorite sculpting tools
* Photos or pictures of a person, animal or characters that appeal to you
* One quote or photo that inspires you
* Pasta Machine (no motors, please) - only if you are driving here - not necessary if you are flying as there are some at Maureen's that you can borrow
* Paper towels or hand towel
* Non-alcohol hand wipes
* Index cards
* aluminum foil
*Things to show what you have been making - or want to make. Photos are OK.
* A joke or 2
* A favorite CD for evening studio time
* A favorite children's picture book - if you have one

For the dorm:
If you are staying in the dorm, be sure and read the suggested list of what to bring, at the bottom of this page:
Dorm Info