Start your own personal Fairy-Garden-in-a-Pot that you can care for through all seasons.

In class we will use dirt, moss, acorns, small stones, twigs, shells and silk vines to create a magical setting to lure fairies to your unique garden. We will also make small furniture and maybe a wee turtle, from polymer clay, to invite the fairies to come in, visit, and take a rest! With your imagination there is no limit to the creative possibilities!

*******************************************************
July 8 Fairy Gardens Afternoon Class: kids150708a
Time: 1:30 - 3:30 pm
And the adventure goes on. After class you can continue to fill your fairy garden with colorful bling (they like shiny things) and other miniature fairy garden accessories that you make, find or purchase.

If you wish to add small plants, you can do that as well, but be sure that your fairy garden pot has a hole in the bottom for drainage.

Supplies: The dirt, polymer clay and a selection of bling plus gifts from nature will be provided

Please bring:
Make something to play with.
Make something that might also be hung on the wall as a real work of heart!
Might be an animal.
Might be a character.
Most of all will be fun!

In this class we'll use polymer clay to create the face and hands for a whimsical hand puppet. While the clay is curing in the oven, we'll choose premade fabric sleeves into which to attach the clay head and hands/paws.
If time allows we'll even do a little practicing so that we can do a bit of a puppet show for family and friends who come to pick up the kids. Maybe?????
****************************************************
July 15 Hand Puppets Afternoon Class: kids150715a
Time: 1:30 - 3:30 pm
Ever wanted to have your own magical, horrible, terrible, wonderful dragon?

Is it pink or blue? Does it have spots? Does it like to eat pizza? Here's your chance to create that one-of-a-kind Dragon that is playing around in your imagination.

****************************************
July 22 Dragons Afternoon Class: kids150722a
Time: 1:30 - 3:30 pm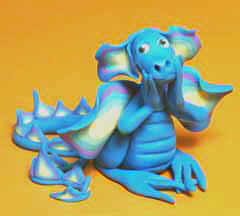 Supplies:

Polymer clay will be provided.
Please Bring:

July 29, 2015 Frame Your Name

Turn your NAMEinto a work of art using polymer clay
and a wooden frame that you paint to match.

Use polymer clay to "write" your name.
(None of our pieces will be the same.)
Someone may want to add some bling,
Or things that dangle from a string

And how about balls or food or frogs?
Or elephants, cats and a couple of dogs?
So many choices but not enough time
to add everything that fits in this rhyme!

Make it simple or make it sweet.
Make it weird or keep it neat.
Use lots of colors or maybe just one.
Then hang it up when it is done!
*******************************************************
July 29 Frame Your Name Afternoon Class: kids150729a
Time: 1:30 - 3:30 pm July 29 Frame Your Name Evening Class: kids150729b
Time: 6:30 - 8:30 pm