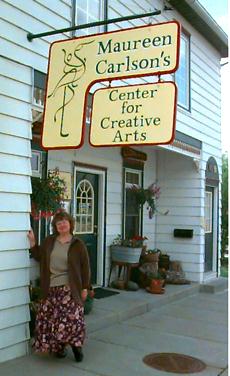 Location:
102 Water Street
Jordan, MN 55352 Map to Jordan, MN
USA

Telephone: 651-460-0725 (Jordan)
or 952-447-3828 (home office/Wee Folk Creations)
HOURS: FRIDAY, 10:00 AM - 9:00 PM, by Whim, by Fancy and by Appointment, as well as for classes, special events and open houses.
(We have recently cut back on hours so that Maureen can concentrate on new artwork.)
Note for Wholesale Customers: WE NO LONGER SELL WHOLESALE, THOUGH WE DO PROVIDE A DISCOUNT TO WHOLESALE CUSTOMERS WHO PURCHASE OVER $50 OF SUPPLIES, EXCLUDING CLASSES AND GIFT ITEMS.

What do we sell?
ORIGINAL ARTWORK BY MAUREEN
POLYMER CLAY - Limited supplies of FIMO, FIMO SOFT, PREMO and CERNIT


BOOKS - that relate to polymer clay, including Maureen's book "How to Make Clay Characters", which has sold more than 100,000 copies worldwide


TOOLS - Including WHAT A CHARACTER®, Designer and Puzzle-Face Push molds


GIFT ITEMS - Maureen's licensed lines of collectible resin figurines

Included in our collectible lines of characters designed by Maureen are:

THE PIPPSYWOGGINS®

FRIAR FOLK™

SISTER FOLK™

"WISHING YOU..."™

MUG HUGGERS™

WINGED MESSENGERS...™

Maureen's books, videos, molds and gift and collectible items are also available via mail order. For pictures and a price list, go to:
Maureen Carlson's Center for Creative Arts
102 Water Street
Jordan, MN 55352
Send Mail to: Maureen's, C/O Wee Folk Creations, 102 Water Street, Jordan, MN 55352
phone at center: 651-460-0725
Home office: 952-447-3828