A Dangle Doll Angel Project
A Maureen Carlson Design

Beads on a String
Serenity Jayne
A Dangle Doll Angel
This 11-page how-to project includes 62 full-color photos and detailed step-by-step instructions to complete this dangle doll angel.
You'll learn to:
Use the push mold to make a face bead

Create jelly-roll pincurls for hair

Form hollowed-out cone shapes for the dress

Make tube beads

Make hands

Make feet

Work with alcohol inks

Use alcohol-ink-based markers to paint the face

Assemble the pieces so that all parts move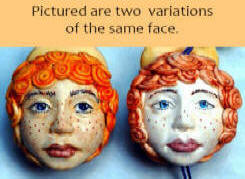 This 6 ½-inch tall dangle doll angel can be hung as a decoration, inside or out, to add some color and "life" to your décor. Imagine how charming she would be in a Christmas tree, kids' rooms, wall groupings, outdoor arbors or hanging plants.
The project uses our What a Character Mold B2: 6 Face Beads, available at http://www.weefolk.com/molds_list.htm .